The Faded Lands [4E]
Warforged
Warforged
Warforged are a race of magical constructs built for war and gifted with sentience.
Racial Traits
Average Height: 6'0"–6'6"
Average Weight: 270–300 lb.

Ability Scores: +2 Strength, +2 Constitution
Size: Medium
Speed: 6 squares
Vision: Normal
Languages: Common
Skill Bonus: +2 Endurance, +2 Intimidate
Construct: You have the construct keyword, so you are considered to be a construct for effects that relate to that keyword.
Living Construct: As a living construct, you have the following traits.
- You gain a +2 bonus to saving throws against ongoing damage. You can us attached components and embedded components made for warforged.
- You don't need to eat, drink, or breathe, but this doesn't render you immune to any effect.
- Rather than sleep, warforged spend 4 hours refraining from any strenuous activity. You need to spend 4 hours in this state to gain the same benefits other races gain from taking a 6-hour extended rest. While resting in this low-exertion state, you are fully aware of your surroundings and notice approaching enemies and other events as normal.
- When reduced to 0 hit points, you are less likely to die. When you make a death saving throw, you can take the better of your die roll or 10. You still die at the normal negative hit point total.
Warforged Mind: You gain a +1 racial bonus to your Will defense.
Warforged Resolve: You can use warforged resolve as an encounter power.



Physical Qualities
Warforged are bulky humanoids fashioned of plates of metal and stone. Supported by a skeleton of similar material and a muscular system of leathery, woody fiber bundles, warforged possess an internal system of tubes filled with bloodlike fluid that nourishes and lubricates their systems. Their powerful arms end in two-fingered, thumbed hands, and their feet each have two broad toes.
Warforged heads have simple humanlike features, and they have heavy brows and hinged jaws with no teeth. None have noses. Their eyes sometimes glow when they experience certain intense emotions, and their foreheads and pates bear runic whorls. Each warforged has a unique rune on its forehead, much like humans have unique fingerprints. This rune is known as a "ghulra," a word that means "truth" in Primordial.
Warforged have an obviously artificial and sexless shape. They can't reproduce themselves like other humanoids. However, their sense of pain seems limited to actual injury, allowing them to modify their own bodies more easily. Such physical modifications allow warforged to be as varied in appearance as other races.
Warforged have lifespans similiar to Humans. After which they enter an inert state for a period of time up to as long as their "life" that they lived. After the inert state, the warforged "wakes up," purged of all but the most basic of memories (speech, locomotion, sense of self). All training, skills, and memories of the warforged's previous "life" are gone permanently. It has been rumored that extremely powerful Artificers might be able to revive a warforged that has "died" and bring it out of it's inert state with some of it's memories in tact.
Playing a Warforged
Often limited in experience, used to being occupied with various duties, and built for killing, a warforged has a straightforward emotional range. It likes working, takes pride in doing its assigned tasks well, and dislikes idleness and falling short of a goal. Pain and the threat of death, which a warforged often sees as the equivalent of oblivion, can motivate it to fear. Attachment to comrades and acquaintances can emerge as a gamut of emotions, not the least of which are joy and loyalty. Like any other being, a warforged can be driven to anger when that which it loves or desires is threatened, and it can come to hate those who are the sources of pain, fear, or other negative experiences. warforged is often, however, a literal-minded being with simple and reserved feelings, along with reactionary passions.
None of this is meant to suggest that all warforged are naïve, emotionally crippled, or lacking in introspection, although all these can be true. If anything, a warforged can be more curious about the whys and wherefores of life and existence than those born in more "natural" ways. few warforged develop deeply sophisticated observations and philosophies about what they perceive and learn. Others create an endless list of goals and chores to occupy themselves. Still others fall in with beings of a similar mindset, or become enamored of established creeds or religions. Some warforged have even lived long enough to develop a deep personality. War and military conditioning color warforged behavior. Many warforged have keen insight when it comes to conflict, chain of command, and other elements of war and soldierly life. Further, most warforged are single-minded and efficient with their undertakings, especially in combat.
Issues of gender are unique among warforged. As sexless beings, many warforged never consider issues of gender, and they find such issues among other races curious or even worrisome. Other warforged adopt habits they find admirable or amusing, without considering gender or disregarding any possible incongruity. few warforged develop a personality that is decidedly female or male.
Many warforged mull over the subject of the afterlife. Whether warforged have a soul that endures after death is a mystery. Religious leaders have differing opinions on the topic. Can a being created by humans have a soul?
Warforged Characteristics: Aggressive, alert, brave, curious, forthright, industrious, loyal, methodical, naïve, practical, reserved, simple.
Warforged Names: Azm, Book, Bulwark, Cutter, Falchion, Graven, Hammer, Mark, Morg, Nameless, Pierce, Pious, Relic, Rune, Steeple, Three, Titan, Unsung, Victor, Watcher, Zealot.
In the past, warforged had names imposed upon them—usually having to do with military rank and position. Most warforged end up with simple names related to their job or abilities. Some warforged accept names or nicknames that their comrades give them, while others search for an ideal name that defines them. Many just take a name common to members of another race, especially those of humans.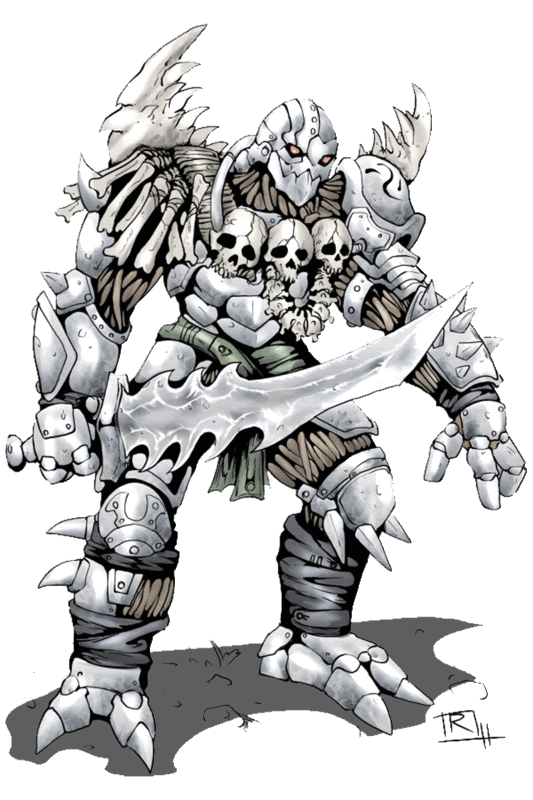 Image© reh0 and used with expressed written consent
http://reh0.deviantart.com/art/Warforged-Barbarian-79798605
---
Return to
Main Page